The Turks and Caicos are made up of some 40 islands and cays, nine of which are inhabited, and all of which are unique in atmosphere, history, and environment. So to get a true taste of the TCI one really needs to visit several of the islands. 
Providenciales may be the most populated, and the centre for tourism, but it is diminutive Grand Turk that is the administrative capital and seat of government. Don't let that fool you though: this is no shiny, modern metropolis. Low lying, beach-fringed, with a speed limit of 20 mph and donkeys that roam freely, visiting Grand Turk is, in many ways, like stepping back in time. With its quaint historic town, friendly stingrays and deep blue sea, it's well worth exploring on a day trip from Provo.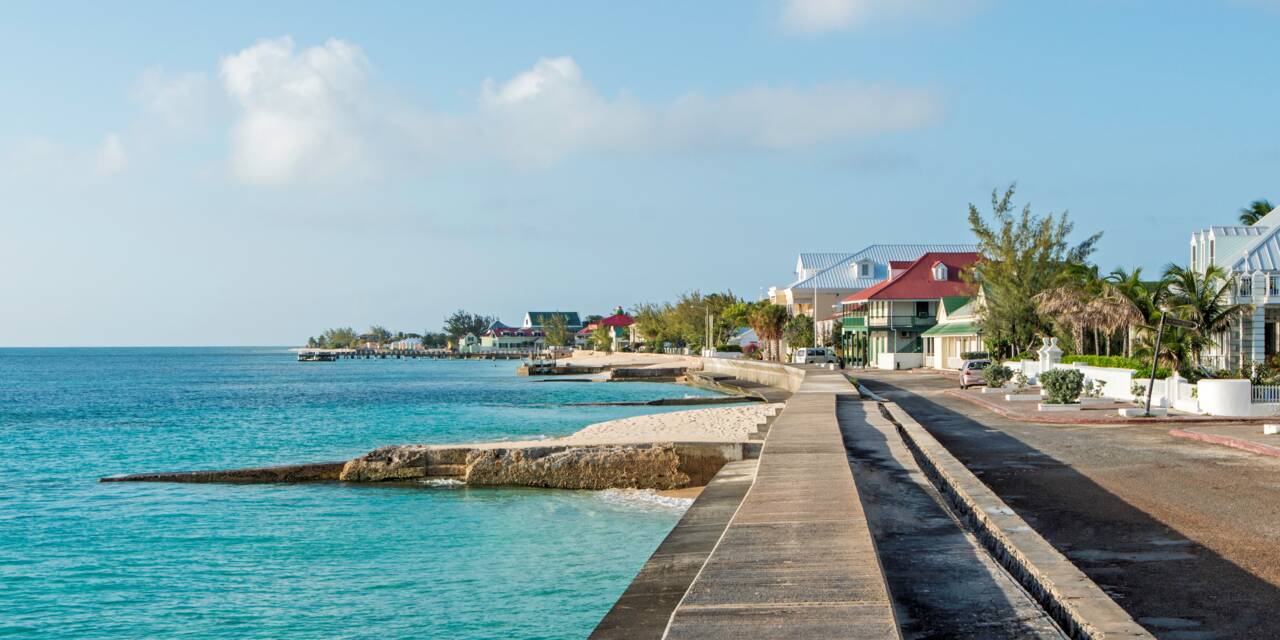 Getting to Grand Turk from Providenciales

As the two islands lie over 70 miles apart there is no ferry service connecting Provo and Grand Turk. The best way to get to Grand Turk from Providenciales is to fly. Two local airlines operate several flights daily, ensuring visitors can fly out early and return late. Flying time is about 30 minutes and one only needs to be at the airport 45 minutes before an inter-island flight, one can tour Grand Turk as a day trip easily.
What to See and Do on Grand Turk
TOUR THE TOWN Any trip to Grand Turk should include an hour or two strolling around the charming capital Cockburn Town. Built in the late 16th century by salt makers from Bermuda, this charming coastal settlement is filled with colourful colonial houses, some of which have been converted into characterful hotels and guest houses. 
For an insight into the history of the TCI, a visit to the country's only museum is a must. Exhibits include artefacts recovered from centuries-old shipwrecks and displays on the indigenous people of the islands. A visit to HM Prison, which was operational until 1994, offers another fascinating glimpse into how life was once lived on these remote islands.
DRIVE NORTH Venture to the northern tip of the island and you'll find Grand Turk Lighthouse. The only lighthouse in the country, it was pre-fabricated from cast iron in England, shipped to the island, and the components assembled on the current site in 1852. Access to the interior is not permitted but the views from the coastal footpath, and the secluded beach below it, make it a worthwhile stop.
TAKE A BEACH BREAK Grand Turk boasts several exceptional sandy beaches, each with its own appeal. For all-round loveliness, head to Governor's Beach, where you'll find uncrowded, soft, pink-hued sand, shady casuarina trees and sparkling, clear seas. Pillory Beach, is a quiet stretch of beach with decent snorkelling, East Beach offers the best beachcombing, and Cockburn Town Beach is ideal for a dip after seeing the sights, and for easy access to low-key beach bars. We recommend lunch and a rum punch at the Sandbar.
MEET THE STINGRAYS Take a trip out to Gibbs Cay, a pristine seven-acre island just east of Grand Turk, famed for its friendly stingrays. Habituated to humans, the rays approach as soon as boats pull up: you can stroke their silky wings, snorkel alongside them and even feed them. Half and full day charters to Gibbs Cay usually include stops for snorkelling or conch diving, and a barbecue lunch on the beach.
WHALE ENCOUNTERS From January to April, humpback whales pass close to the island on their annual migration. Head out on a whale-watching trip and not only will you marvel at their size and power when they breach, but if conditions are favourable, you may even be able to snorkel alongside them.
Our concierge team is available to design full itineraries for you, including a day trip to Grand Turk.
For more ideas of activities and excursions in TCI, please see our post on family-friendly activities.