Private Chef Services in Turks and Caicos
Because exceptional food is one of the essential ingredients of an extraordinary vacation, and shared meals are a profoundly bonding experience, we provide private chef services to bring sublime dining to you in the comfort of your villa.
Prepared with passion and presented with panache, our acclaimed private chefs make every meal an event to savour.
Refined In-Villa Dining
The larger, staffed villas in our portfolio include the services of a private chef, as well as a butler and housekeeper, allowing guests to relax completely and leave the shopping, cooking, and clearing up in the hands of the professionals.
From breakfast buffets to family-style lunches, and informal pizzas and barbecues to exquisitely plated dinners, savour meals in the style you prefer, and enjoy them in the setting of your choice, be it a formal dining room or poolside pavilion, on a beachside deck, or under the stars with your toes in the sand.
Our chefs are committed to creating menus that match guests' lifestyles and culinary preferences. To ensure every meal aligns with your expectations, chefs are available to consult with you on menu design in advance, or review options regularly throughout your stay.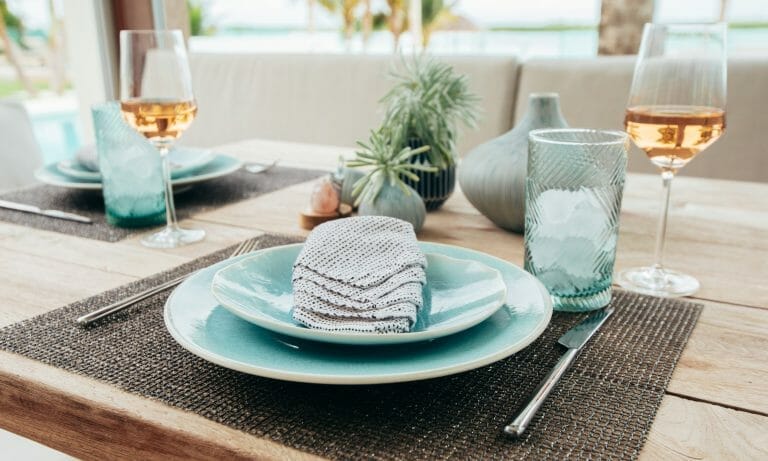 If you are staying in one of our smaller villas, or indeed, you are not a guest of the Source but would love the luxury of being cooked for at breakfast, lunch and dinner while in the Turks and Caicos, please contact us. Whether for a single decadent feast or for the duration of your stay, we will match you with one of our talented, internationally-trained private chefs.
Celebrating Local and Global Ingredients
With backgrounds in world-class hospitality venues, our chefs are masters of their craft. Drawing on their knowledge of global cuisines and skilled at sourcing both the freshest local produce and hard-to-find international delicacies, they create flavours that linger in one's memory long after the last mouthful.
Whether you want to indulge in the rich and the decadent on vacation, immerse yourself in Caribbean cuisine, or prefer to follow a clean, healthy diet, your private chef will design menus to delight your palate, while catering to any allergies or dietary requirements.