Villa AWA
12 Guests · 6 Bedrooms · 6 + 2 half Bathrooms · Located In Grace Bay, Leeward



Private chef, 2 butlers and housekeeper
Personal concierge
Heated pool
Hot tub
Fire pit
Al Fresco dining
Complimentary WIFI
Outdoor shower
Outdoor speakers
Air conditioning
Movie room with games table
Massage room
Smart TV & Apple TV
Snorkeling gear
Paddleboards and kayaks
Table tennis
Bathroom amenities
Safe(s)
House alarm system
A complimentary round trip airport transfer
Villa meet and greet by your personal concierge
Check-In: 3:30pm | Check-Out: 10:30am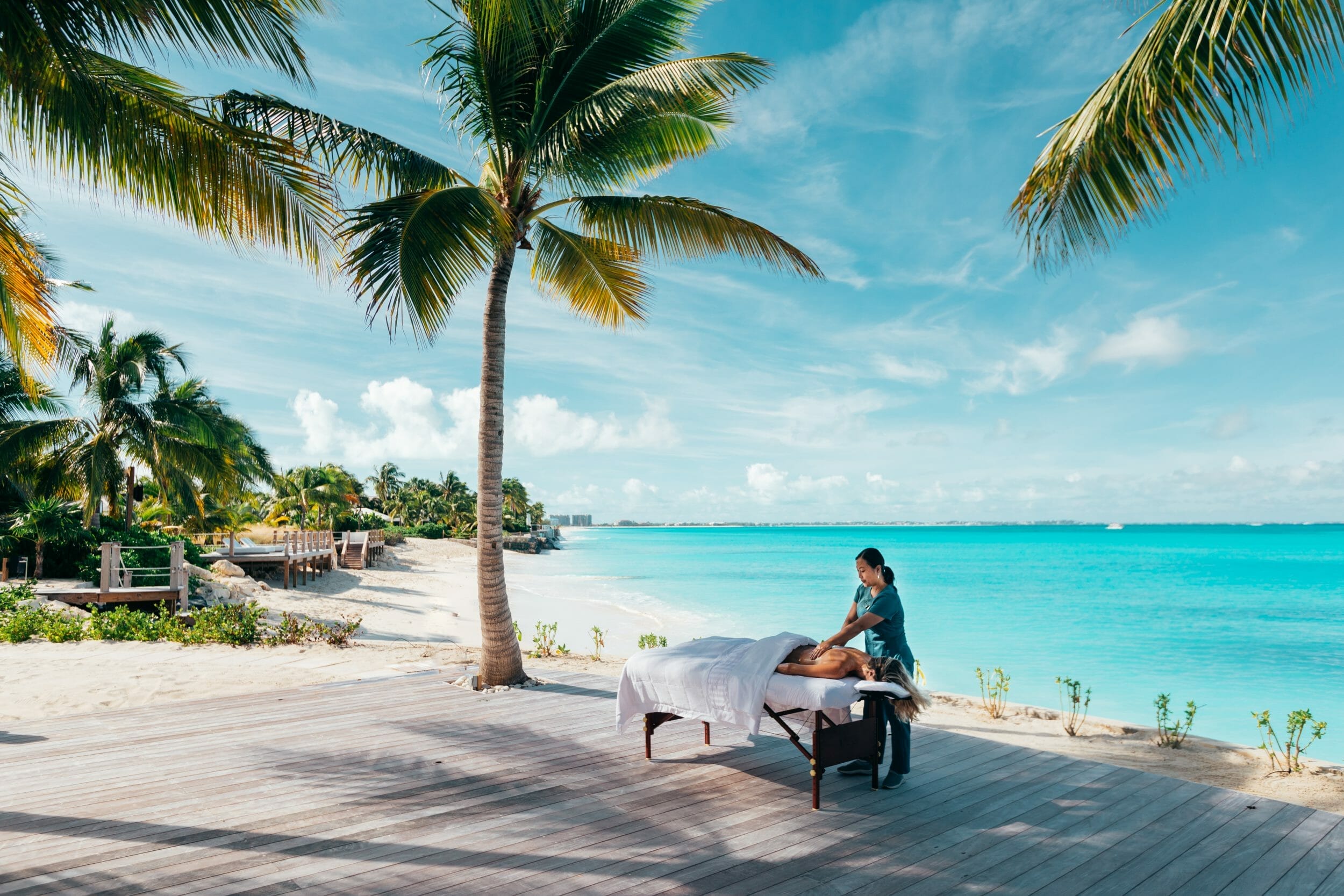 Square Footage: 7,030  |  Acres: 0.7  |  Beach Front Footage: 100
Bedroom #6
King Bed · Ensuite Bathroom · Ocean and Pool View
Bedroom #5
Queen Bed · Ensuite Bathroom
Bedroom #1
Principal – King Bed · Ensuite Bathroom · Ocean and Pool View
Bedroom #2
2x Queen Bed· Ensuite Bathroom · Ocean and Pool View
Bedroom #3
2x Queen Bed· Ensuite Bathroom · Ocean and Pool View
Bedroom #4
2x Queen Bed· Ensuite Bathroom · Ocean and Pool View
What Guests Are Saying About AWA Villa
To my Awa family. Thank you Maynard for leading your team with kindness and grace. You are a loving and kind man. Juwita, wow! Your food is your soul and it's all beautiful inside and out. Flora, sweet flower. Thank you for all the extras you helped me with. Daniel, xo, I will not soon forget one of the best days of my life. Ouch! But oh so good. Love to you all.
Laura
May 2023
Thank you so much for a wonderful escape from the day to day. Loved the beautiful water, amazing food and fantastic staff.
Eric
May 2023
Wow! What an amazing place! Thank you Maynard, Juwita, Flora, Daniel for an unforgettable experience. We had an awesome time playing cornhole, swimming in the ocean, and lounging by the pool! Hoping to be back one day!
Nate
May 2023
Thank you so much for your amazing hospitality. You guys made this trip unforgettable!
Garrett
May 2023
Yall have made this week perfect! I am so thankful for everything yall have done for us on our fam vacation – you guys feel like family. I love yall!!!
Sarah
May 2023
Best family vacation ever! Thank you for making it great!
Trey
May 2023
Thank you for an AMAZING week abd making us feel right at home! You all are the best! Thank you for everything! See you again!
Grace
May 2023
Perfect week, perfect people, perfect weather! There couldn't be a better place to celebrate Susan's 40th! The entire house team provided impeccable service and never left us wanting. Thanks for everything, will be back.
Aaron
May 2023
We had a wonderful time! You were amazing and made our trip perfect!
Danah
May 2023
Thank you all so very much for an absolutely perfect week! We loved our stay and will miss you all! Everything was beyond our expectations! Thank you!
Ava
May 2023
Our week at Villa Awa has been one of the best vacations for our family. The house, the food and most importantly the staff was beyond expectations. Thank you for everything.
Glen
July 2021
Thank you Maynard, Daniel, Flor and of course Juwita (for making us fat by her absolutely wonderful cooking)! We had a fabulous time. The house is perfect, but most of all it is the awesome staff that made our kids graduations great! We'll be back soon.
Joe
June 2021
This vacation slapped! We cannot really our gratitude to the staff of the Awa Villa enough. This house has surpassed our expectations from beautiful sunrises to gorgeous sunsets. Thank you Flora for your wonderful smile, Daniel for anticipating our every need, Maynard for helping us with whatever we may have needed, and chef Juwita for preparing scrumptious meals. Ya'll truly are what make this stay unforgettable.
June 2021
Thank you so much to everyone at the Awa Villa for the most amazing week. We could not have imagined a better way to celebrate our college graduation. Thank you to Crystal, Daniel, Flora, Juwita and Maynard for making us feel so welcomed and at home! Daniel and Maynard made the best pina coladas. Thank you to everyone for dealing with all of us crazy 22 year olds. Hopefully we will be back one day!
Joe
May 2021
We knew the place was wonderful…I personally came twice, but this time something made it magical = you guys = Flora-Daniel-Maydard-Juwita. The Italian group of crazy people really loved you all and a piece of our hearts will always be here. We hope to come back asap.
Kate
May 2021
Thank you for sharing such an amazing piece of paradise with our friends and family. From the time we stepped through the door this staff engaged in everything possible to make our stay spectacular. Enough cannot be said of the hospitality and the hard work that this staff displayed. It must be mentioned that Juwita is the most amazing cook and cares about everything being presented. Maynard and Daniel made this trip so enjoyable. Always serving us but also being great human beings. Thank you.
Craig
March 2021
Simply wonderful. Excellent food. Beautiful home. Lovely staff. Loved every moment!
Cynthia
March 2021
My mom, grandparents and myself has the most amazing time at Awa. Beautiful villa, nice staff, fresh food. Such a lovely break from all the madness that's going on in the world at the moment.
Sofiya
February 2021
Flora is lovely also, always with a smile and fast a efficient. The staff made our stay amazing. We felt at home they entire stay. Lovely, well appointed villa.
Virginia
January 2021
We had the most amazing time at Milestone Villa. Leon was such a joy to have here helping us. Milestone is a dream villa that is clean, modern and very comfort and relaxing. Can't wait to come back one day.
Victoria
October 2020
What a beautiful stay we've had on our incredible girls trip! Celebrating our friendships and our dear friends birthday could not have been more memorable. The turquoise blue ocean provided the perfect backdrop and the attentive staff met our every need from morning coffee on the beach, to snorkeling gear, paddleboards and birthday cake. We take with us many unforgettable moments!
Victoria
January 2020
We all really enjoyed our stay here and especially all the wonderful staff – Maynard, Juwita, Daniel and Flora. They gave excellent service with friendliness that made everyone fell welcomed and cared for. For all of us – the best vacation we've ever had.
Brad
August 2019
We had a spectacular time with this beautiful team at the house. Thank you for an amazing few days that we will never forget. Maynard, Daniel, super chef Juwita, Flora, what a delightful A+ team! Your warmth, super kindness and flawless love for attention and servitude made our stay extraordinary. Matching the flawlessness of the environment outside we came to enjoy. Thank you, thank you so much.
Rachel
August 2019
Thank you so much for everything! Best vacation ever! We will miss you all!
Elise
July 2019
Everyone was amazing! We had an absolute best time.
Shannon
July 2019
This truly was the most amazing vacation in paradise! The staff were incredible and I hope to be back soon!
Erin
July 2019
Heaven on earth! The staff made us feel like Kings and Queens – attentive and so very gracious! We do not want to leave. The food was spectacular!! We feel so spoiled here.
Amy
June 2019
Thank you for a blast of a time. Great hospitality!
Dave
June 2019
Wow, where do I begin? From the moment we arrived it was magical for me. This is the service for royalty. Thank you for the attention and hospitality I've never been treated this way in my old age. Daniel was my star!! He was awesome. He makes me want to come back even more. Maynard, you took care of me and I appreciate your dedication to my annoying ways. 
Ayoma
June 2019
The house and beach are stunningly gorgeous but the staff here is what made this vacation truly exceptional. Gracious, helpful, funny and accomodating to our evey wish. A dream come true
Nigel
June 2019
Thank you for a most wonderful time. Juwita, Daniel, Maynard, Flora you all are absolutely amazing!!
Adith
June 2019
Turquoise water, sugary sand, poetic sunsets, tropical breezes, tinkling shells in the gentle surf – a magical respite from the real world in this incredible paradise but best of all were the warm and welcoming hearts at Villa Awa. Maynard, Juwita, Daniel, Reggie, Dylan, Flora, Melanie – you have been the key to this entire experience…the cherry on top! Thank you for making this so unbelievably relaxing and thoroughly enjoyable!!
Aamir
June 2019
Awa staff – thank you for the incredible hospitality! This vacation was a once in a lifetime trip! Our family had the BEST time and we will definitely be back!
Austin
June 2019
When we planned the trip we thought the beaches, snorkeling and weather would be the highlight of the trip. And while all that was great we realise as we leave that meeting such amazing, kind, thoughtful people became the memory that we will take with us. Juwita is a master in the kitchen. Daniel never let us put an umbrella up or take a chair to the beach. Maynard was such a great scheduler and booked things that we would love (steel drum & David) and we did. Flora came behind us so quietly and made sure everything was organised and clean! This is a must stay. We've been to other islands and countries and this by far was our favourite vacation. Thank you all so much for a trip we will never forget!
Mara
May 2019
Thank you! Had a wonderful time with the family. The staff was superb! Beautiful house.
Trisha
April 2019
Thank you so very much for the experience of staying at your beautiful Awa. It is remarkable at every turn, with one view more lovely than the next. We will cherish our time and family memories here. Maynard, Juwita, Daniel and Flora all added to this tremendous time – we can't thank them enough for caring for us all. We love your island and hope to return again. So grateful for this experience! Huge thank you to our dear friends for making it all possible.
Drew
April 2019
Thank you for making our stay and my 40th birthday (!!!) so incredibly memorable. From the delicious food, to the crisp clean linens, to the tropical drinks, to the morning coffees and afternoon espressos, to the epic seashell hunts and kids dance parties…the luxury and fun was truly endless! What an EPIC trip this has been! Lee, Maynard, Juwita, Daniel…you are a FIRST CLASS team! but the person who made it all happen is my incomparable husband and the love of my life, Matt. Wow. He sure knows how to make me feel special! Thank you Villa Awa!!
Erin
April 2019
Thank you for a wonderful vacation! We had so much fun and will definitely be back!! You are the best!!
Joan
March 2019
Many thanks from Richard and I.  Our experience was memorable, the staff was unbelievable … so many great memories!
Anita
March 2019
Words can not express our sincere thanks and gratitude for all the effort you put into making our vacation incredible.  Till next time!
Marco
March 2019
Amazing experience, stunning views, spectacular villa – staff are top notch! All the staff made our experience extra special! Never to be forgotten.
Zeke and Marlene
March 2019
What a wonderful week! You are all the best – such terrific service and food – the whole thing! Until we see you again.
Elli and Dave
March 2019
The best vacation. Beautiful villa. The staff was so attentive and always with a smile. We will have memories to cherish for a lifetime.
Rosa Maria
January 2019
Thank you so so much for letting us stay in this amazing home for the week! We truly had the best week ever!
Zach, Charlotte and friends
August 2018
Located In The Beautiful Grace Bay, Leeward
Handpicked Villas
Each villa personally vetted with a keen eye towards aesthetic design sensibility, exclusive luxury and indulgent comfort.
On Island Property Managers
As the villa owners' direct representatives, we are responsible for each home and pride ourselves on maintaining our properties to the highest of standards.
Best Prices & No Booking Fees
No middlemen. Liaising directly with each villa owner guarantees you the best price, every time.
Adventure Awaits at Villa AWA
Start a conversation with our team. Our team is on-hand and more than happy to assist.
These Villas May Also Interest You...